How is Covid-19 affecting NGOs' finances and operations?
48% of UK charities risk losing their voluntary income because of the coronavirus (Covid-19) pandemic, according to a recent survey of 550 charities by the Institute of Fundraising (IoF). UK charities stand to lose a third of their overall funds.
Many of the organisations in IoF's survey have an international focus and are Bond members. To support NGOs in these volatile times, we surveyed our members to find out how Covid-19 is affecting international NGOs' finances and operations. We heard from 93 CEOs of Bond members, ranging from small to large organisations. Here is what we found.
Income is dropping
There's been a 41% increase in direct debit cancellations for UK charity donations this month, according to Rapidata. 31% of international NGOs' income comes from individual giving (donations and legacies), according to our 2015-2016 data. A further 10% of funding comes from earned charitable activities and public fundraising activities. This includes fundraising events, marathons, bake sales and charity drives, which NGOs have cancelled over the next few months.
That means nearly a third of the UK international development sector's £3.89bn income is at risk. If INGOs lose 48% of their voluntary income and a third of their total income, as IoF's survey suggests, then the international development sector stands to lose £1.28bn.
NGOs are scaling back operations overseas
86% of members are cutting back or considering cutting back in-country programmes. This includes postponing programme implementation, closing country offices and limiting income to global programmes.
NGOs are taking these measures for several reasons: contractual constraints prohibiting INGOs to continue to pay staff despite being unable to fulfil programme proposals, health risks to frontline staff and escalating inflation causing in-country costs to rise. Border closures or lockdown measures are also preventing access to communities at risk, particularly older people, those with underlying health conditions, women and girls, and people with disabilities.
14% of NGOs haven't cut back on programming, but many of these are waiting to hear whether donors will continue to cover salary costs if programmes are suspended.
Staff are being cut back
60% of NGOs have already cut back on staff in the UK and overseas. A further 25% will likely be doing so soon. Measures taken included furloughing staff, compulsory paid annual leave, moving staff to part-time hours and letting staff go.
Subscribe to our newsletter
Our weekly email newsletter, Network News, is an indispensable weekly digest of the latest updates on funding, jobs, resources, news and learning opportunities in the international development sector.
Get Network News
Many have frozen recruitment, delayed new starters by three months, or will be looking to make cuts down the line. Some NGOs are particularly reducing London-based staff, with one NGO halving its London fundraising team to protect its in-country programmes. Others are looking to make further reductions in the payroll or lay off staff, if the situation doesn't improve after three months.
Many NGOs won't survive without funding changes
While most organisations said they would survive the next three months, their financial positions after three months were tenuous and uncertain. Only 37% said they could survive longer than six months without additional funding.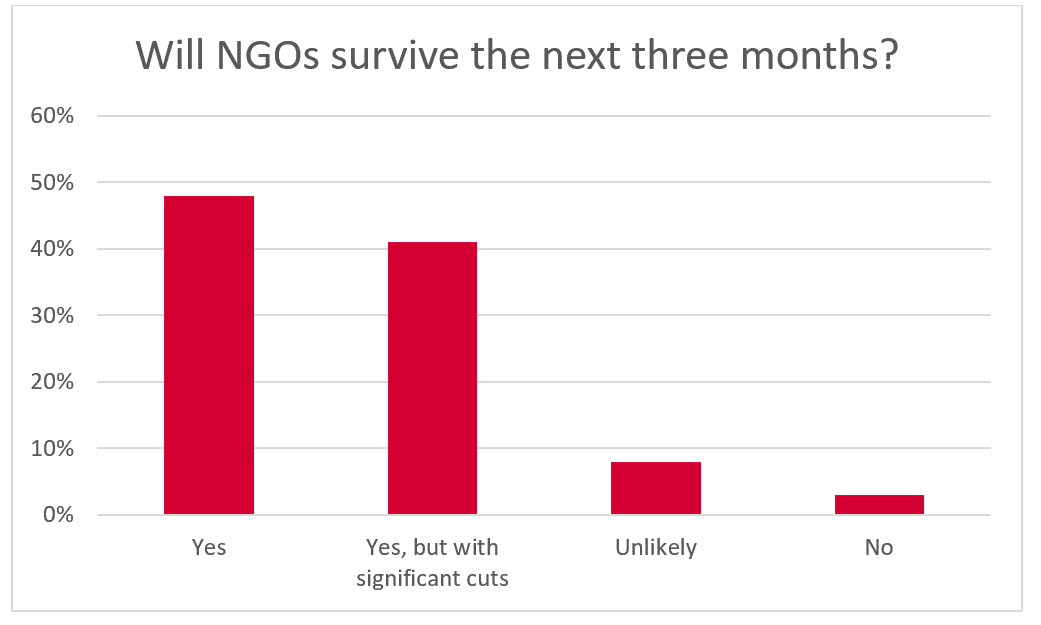 Because of their reliance on restricted grants, organisations won't be able to cover core running costs or won't be able to divert funding to their Covid-19 responses. Some organisations are being forced to use up their cash reserves to weather the next three months, leaving them in a precarious financial position.
Some organisations said they just need permission to spend some of their existing grants to cover core costs, rather than needing additional funding. Although funders are being more flexible with their grantees, many NGOs are still waiting to hear from government donors, like the Department for International Development (DFID), on whether they can use their restricted income to pay core staffing costs while putting activities on hold.
A temporary unrestriction of existing grants would not only save us but also allow us to immediately redirect programme activities to Covid-19 response. Because we can't cover core costs and are also short staffed when some become ill (combined with the inefficiencies of current home working), it's not practical to renegotiate programmes and budgets, or even develop applications for new funds. Donor staff time is overstretched too. A simple temporary unrestriction seems the ideal solution.

anonymous survey respondent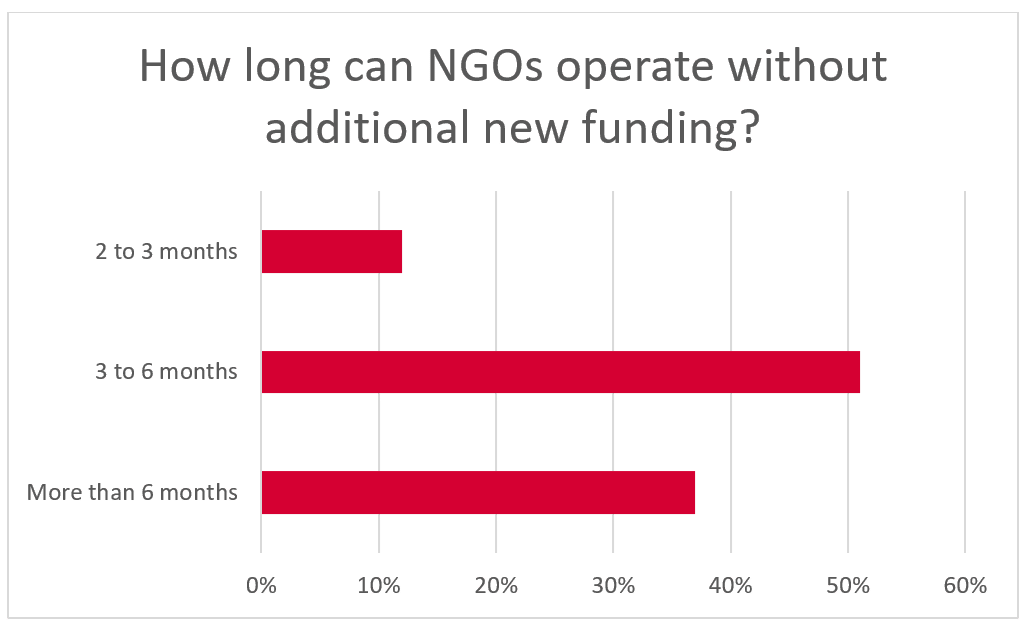 Other operational challenges
In a second snap survey of 58 members, NGOs shared some further operational challenges:
91% said their operations were hampered by restrictions on international travel
81% are concerned about keeping programme staff and volunteers safe
59% are concerned about keeping UK staff safe, as social distancing across Europe has been enforced.
What are we doing about these challenges?
We're responding to our members' needs by mobilising the sector and providing the latest insights for enduring this crisis. Here are some of the ways we're responding to the challenges raised in our survey:
We're sharing knowledge, learning and resources that relate to international development, peacebuilding and humanitarian response. Checkout our comprehensive information and resources hub.
We're also mobilising and convening members to share insights. Our 40 working groups are already providing advice and resources on specific areas of work. We're holding a series of webinars on topics like staff retention and management, medical advice and health, business continuity, mental wellbeing, travel and foreign exchange. We've also moved our training online.
We're engaging with UK government to help NGOs survive financially. We're connecting with NCVO, the IoF, ACEVO, Charity Finance Group and others to push for government support to charities. We're also liaising with DFID to advocate for flexible funding to enable NGOs to adapt their programmes and respond to the crisis.