Data for good, data for bad
Data-driven tech has profound implications. In international development, it can transform lives. But it also has a darker side, so you need to be clear about what it's for and who benefits.
Bihar is a backwater state in India. Far from Kolkata, the closest megacity, it stretches from the low-lying plains of the river Ganges to Nepal's southern border. While it may be a footnote in the story of India's economic development, it's two thirds the size of England and has twice the population.
Bihar's population remains overwhelmingly rural, with some 90 million Biharis living in the countryside. And there are a lot of fish.
We can find innovation in the least obvious places
And so, at 5am, in the fog one freezing February morning, I found myself surrounded by tilapia.
Darbhanga has a wholesale fish market. It looks pretty basic. Hygiene: not great. Refrigeration comes from sacks of crushed ice. Heaps of fish lie on tarpaulins. Wads of cash change hand. You might think nothing has changed here in centuries.
But, fish farming is new. It's only in the past 50 years that it's become a major source of food, and it's tied into long value chains that snake along highways, across borders and around the world.
Most of the fish in Darbhanga market comes, not from small-scale local farms, but from over 1,000 kilometres south, in the warm, coastal wetland plains east of Hyderabad.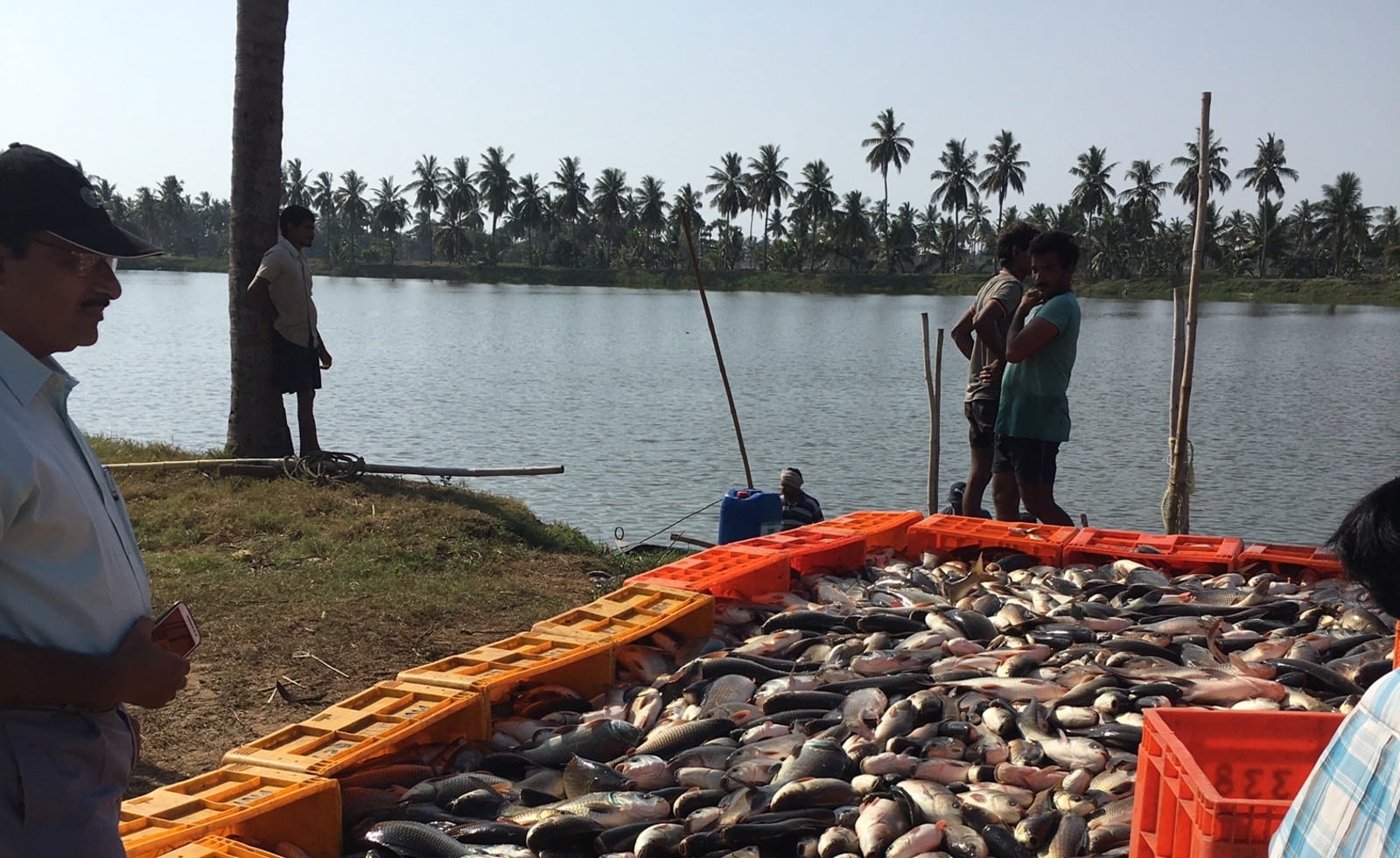 Local farmers realised that these lands were perfect for farming fish, established small fish farming businesses that grew, both in their extent and their intensiveness over the years.
Clamber to the roof of a building there, and the ponds extend as far as the eye can see. Modern, intensive, scientifically managed food production. A blue revolution.
Local farmers and landowners who realised a few decades ago that these marginal lands were perfect for farming fish, established small fish farming businesses that grew, both in their extent and their intensiveness over the years. But on the path to intensive farming, there were barriers to innovation they needed to solve on maintaining water quality, on improving feed conversion ratios, on managing sludge, and on maintaining the genetic quality of their fish.
Subscribe to our newsletter
Our weekly email newsletter, Network News, is an indispensable weekly digest of the latest updates on funding, jobs, resources, news and learning opportunities in the international development sector.
Get Network News
This is a pattern we've seen again and again in food production – and indeed in many other sectors. Social need, people willing to innovate, improved logistics and new technology have combined to deliver some of the impressive development gains the world has seen in recent decades.
This can be sophisticated tech – data-driven digital tools providing information on markets, water or soil conditions, scientific testing of water quality or genetic testing of stock – but it can also be quite simple: in much of India, it's through WhatsApp that fish farmers share the information, tips and tricks that drive productivity growth.
And so, while the most important link to the fish market in Dharbanga comes by truck from the south, ideas, technologies and raw materials from all over the world actually come into play there, from Scottish universities to Brazilian soybeans.
In industry after industry, social and technological change have come hand in hand like this.
Data is at the frontier of innovation
In science, multinational projects from the vastness of space to the individual genes in our cells are based on public, shared datasets. In the government, public sector information is now free to use.
Data is making inroads for good in less obvious places too, with my organisation, Nesta Challenges, playing its part.
In Nepal, we have incentivised the creation of data-driven tools which help increase farming yields. The Data Driven Farming Prize supported a cohort of innovators from around the world to bring the data revolution to smallholder farmers. The winners: a mapping and data visualisation tool, smart software to automatically diagnose plant diseases, an integrated tool for providing critical information to farmers and a tool to monitor soil moisture.
The prize attracted innovators from around the world, but, critically, fostered local innovation too: two of four the winning teams were Nepali organisations.
In the Longitude Prize the focus is on tech that reduces the need for antibiotics, In our Legal Access Challenge, it's about automating legal services to broaden access to justice.
Yet, these utopian visions of modern technology, empowered citizens and smart cities are only part of the story.
Data is not inherently good
Self-driving vehicles could be a democratising force, but the early signs are worrying. Secrecy, in particular, over the data they gather and over the incidents they face, should set warning lights flashing for us all.
There's growing public disquiet over algorithms and the decisions they make. Sometimes this is as trivial as wanting to know when we're talking to a customer support chatbot. Sometimes it's not: recruiting decisions or mortgage approvals made by software with no duty to explain and little right of redress.
Sometimes it isn't just our data that's manipulated, but our emotions and judgement. And when our judgement is manipulated, so is our democracy. Recent electoral scandals, including in the UK, are maybe the starkest warning yet of what happens when tech is used without ethics.
This matters because technology is not neutral. The decisions we make, the services we build, the designs we create – all these reflect our values and our purpose.
And so the question is: when you're building something new, who is it actually for?
Join our Tech for Development Group to participate in the discussion around the impact that new technologies are having on people's lives and international development work. Groups are free for Bond members to join and take part in.