This case study explores a start-up, originally called Help Refugees, which grew and rapidly evolved into a widely trusted organisation that works globally and is now known as
CHOOSE LOVE
Choose Love is a pioneering new movement in humanitarian assistance, which provides fast, flexible, transparent, accountable funding and support to refugees.
The team is passionate about what they do and is deliberately lean, driving a fast-paced, global movement across 27 countries. Since its inception in 2015, the organisation has raised tens of millions to directly and flexibly support grassroots, community-based organisations, creating a movement of people who are putting love into action around the world. Choose Love's narrative is not one of charity but of solidarity. One of its core beliefs is that the people who experience and respond to displacement crises are the ones best placed to advocate for their solutions.
The business model
Choose Love has disrupted the traditional charitable model. With social justice values at its core, Choose Love also views itself as a powerful brand. We spoke with Josie Naughton, co-founder and CEO of Choose Love, who said: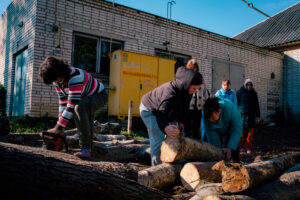 We really think of Choose Love as a brand; a business where our profit is impact. To fundraise strategically to best meet the needs of our partners, we need to think like a business so we can do the very best by the communities we support. We are entrepreneurial – it is in our DNA.

Josie Naughton
Choose Love is also a careful risk taker. Going to where the needs are greatest, the organisation has developed an agile model that responds quickly to rapidly evolving crises.
It spends a lot of time assessing the risk involved. Over the last seven years, Choose Love has developed a new and necessary model of democratising funding to provide community-based services to displaced people in a responsive and person-centred way. Continually striving to shift conventional international development models, many of which perpetuate inequity, Choose Love is learning how to build a strong organisational infrastructure as it grows. 
Choose Love was born on social media and close to 50% of its income is generated from public forms of fundraising. The other 50% comes from traditional philanthropy, trusts and foundations and high-net-worth individuals. Having a diverse income stream is extremely important to Choose Love's model. 
Where possible, the organisation always tries to raise unrestricted income so it can be responsive to its partners' ever-changing needs. 
Income breakdown
18% from crowdfunding
55% of fundraising from trusts and foundations
2% from high-net-worth individuals and corporates
16% from the Choose Love Shop
3% from merchandise
1% from events
In 2020, just 6% of Choose Love's funds were spent on core costs, 5% were spent on fundraising, and 2% went to Prism the Gift Fund for its governance and accounting work. As Choose Love has grown and stabilised, its operational costs have increased to ensure it provides a high-level of support to its continually growing ecosystem of partners. However, Choose Love has made a commitment that these costs will never go above 20% of its total income. 
When Choose Love's founders Josie Naughton, Dawn O'Porter and Lliana Bird started working together in 2015 –  as the 'refugee crisis' hit Europe, prompted in large by the situation in Syria – they had no experience of working in or with NGOs, nor of applying for institutional funding. They were just ordinary people, compelled to support fellow human beings. The only thing they could do was raise unrestricted income from the public, so this is what they did, and the Choose Love movement was born. 
When they began raising funds in 2015, they didn't go in with an agenda, rather they instinctively asked the very few organisations supporting the people in the refugee camps what was needed. Choose Love listened. It worked across sectors, understanding that needs varied drastically across different contexts.
Crucially, having access to unrestricted funds raised from Choose Love's generous supporter base meant the organisation could meet the majority of requests it received. At the time, Josie, Dawn and Lliana didn't realise that being able to work in this way was not the norm. As Josie reflects, "I didn't realise how unusual and valuable it was to have unrestricted funding."
As Choose Love grew, Josie realised that the downside of solely depending on the public for funds was that the organisation did not have any income secured over the longer term. This was crucial to provide sustainable support to partners. Josie and colleagues turned to trusts, foundations and philanthropic organisations as a way of achieving this and realised the importance of these grants for stabilisation.
This is what they learnt:
1. You can´t count on money until it is in the bank.
2. You can´t depend on one, two or even three donors or sources of income; diversification is key to Choose Love´s business model.
Bringing funders along
As Choose Love developed, it was able to access funding from trusts and foundations. But Choose Love realised that having traditional grants was at odds with its flexible, rapid way of working. As an intermediary funder, Choose Love bridges the gap between traditional philanthropic models of fundraising and its partners' continually shifting needs and limited administrative capacity. As a result, Choose Love has had to take some of its funders on a journey to understand what radical solidarity means and the organisation's more flexible and rapid approach to working. It is incredibly fortunate to have a broad base of supporters and donors who intimately understand the challenges of working in an ever-changing context and who provide unwavering support to Choose Love and its partners. 
Choose Love has had to formalise its processes and systems, which has inevitably caused tension with its way of working. "Over time, working in the contexts that we do, you do need to put further systems in place to protect the communities you work with and the organisation itself," says Josie. "So, the process we take partners through has become more formalised and we work within frameworks. There is always a tension there. We want to find a way to walk that tightrope and remain responsive to the needs of the grassroots network while having strong due diligence systems in place. Never losing sight of the reason we exist in the first place is very important to us."
The refugee crisis is not going away. With over 100 million people now displaced in the world, the needs are greater than ever. 
Radical transparency as a key part of the business model
Being visible
Being visible to the public and constantly talking about what Choose Love does is key to keeping supporters engaged.
Offer a platform
Choose Love gives partners a platform through the organisation's social media, showing people exactly where and to who their money is going.
Make sure you tag
Choose Love tags its partner organisations and tells stories via videos and reels.
Build trust
This approach to social media has resulted in its followers trusting the organisation's work and feeling invested in the people involved.
This is one of the reasons Choose Love´s supporter base is so strong. It is largely made up of young, compassionate people who are also active on social media. In fact, the organisation's 'brand' is trustworthy and cool.   
Celebrities are not only an important part of Choose Love's supporter base but are proud to put their own personal brands behind the organisation. Celebrities fuel considerable income generation for the organisation and act as role models, showing solidarity for refugees and raising awareness of the refugee crisis and problematic, discriminatory government policies.
The Guilty Feminist and Jameela Jamil's I Weigh are among the well-known platforms that spotlight Choose Love and put on events to raise money for the organisation from their own followers.
Choose Love's trustworthiness has paid dividends. The organisation is now at a stage where brands and celebrities approach it to form partnerships to raise funds for the charity.
Choose Love's trustworthy and relevant brand fuels the diversification of its business model.
A relevant, socially conscious and fashionable brand
Another source of income is Choose Love's merchandise shop. This is where the organisation's entrepreneurial DNA is the most visible. Choose Love's merchandise has evolved through different partnerships, and this keeps it fresh. Choose Love does its merchandising successfully; it isn´t just about wearing a fashionable t-shirt, tote bag or bucket hat. It is about making a statement about who you are as the wearer. A supporter can be eco-conscious through the Choose Earth collection, an ally or proud member of the LGBTQ+ community, or simply a social justice campaigner.
Choose Love has developed, evolved, sold, distributed and marketed its merchandise in different ways. Its Katharine Hamnett-designed t-shirts are iconic and so much more than your average charity clothing. Whoever Choose Love partners with to distribute their t-shirts they ensure they do not drift from their principles, paying close attention to the value chain and sustainability issues.
Why did the organisation decide to use a funding approach with diverse income streams?
How effective has it been in generating income and ensuring sustainability and supporting a shift to locally led development?
In short, really effective. Choose Love has been able to prioritise what is needed by listening to the teams it works with in-country, rather than going in with its own expectations. Being needs-led is at the core of the work, and flexibility is built into the organisation's funding strategy. 
It has invested in a strong programmes team to work with partners and keep donors abreast with up-to-date information from the ground. Choose Love adopts a network-based approach, having key thematic areas of focus, including supporting unaccompanied children and LGBTQ+ people. It has trialled regional open calls, assessed by an advisory committee consisting of people with lived experience of forced displacement from that geography. In certain contexts, this is harder. In regions where people are transitory and living in refugee camps for short periods of time, fewer refugee-led organisations are sometimes found. Choose Love strives to connect to local networks and find grassroots leaders who can build projects, with the community involved at all stages of programme design.  
What is the organisation planning to do next?
"Choose Love celebrated our seven-year anniversary in 2022. When we first began in 2015, we could never have anticipated the scale of our organisation today, although we of course wish we didn't have to exist" says Josie.
Our success is built on the strength of the relationships with our partners, the public, our donors, and all driven by a very focused and hard-working team. This strength is reinforced by the unshakeable roots Choose Love has developed in supporting the ecosystem of grassroots organisations along key migration routes, with these networks coming to the fore in times of immense hardship as we have seen this year.
The last year highlighted more than ever the importance of Choose Love remaining flexible in its approach and responsive to emerging situations. Just as conflict can emerge quickly (as the world saw with Russia's invasion of Ukraine), similarly dire situations can also disappear from public sight. The organisation endeavours to find a balance between remaining true to its core values and understanding the scale of impact it can have, with a model that can adapt to humanitarian crises as they occur.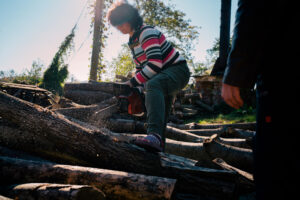 Choose Love isn't seeking growth for growth's sake. It knows it is crucial to build a structure that is sustainable, one that does not rely on specific individuals and can stay at the forefront of a constantly evolving world. Shifting audiences on social media platforms requires the team to stay ahead of the curve by investing in video editing skills, as still images are no longer favoured by algorithms. 
Future planning must be done in consultation with the communities Choose Love seeks to support.
Remaining accessible and listening to partners is essential to building funding models that can involve genuine co-production. 
What has the organisation learnt and what would it do differently?
Choose Love believes that a key part of supporting forcibly displaced people is ensuring that the local, grassroots and community-based organisations working with them are effectively resourced, serviced and networked. It addresses this in coordination with the formal sector, including large-scale INGOs, government ministries and local authorities. This collaboration is necessary to best support people on the move as each actor brings its own strengths to the response (for example, large INGOs are best placed to implement cash programmes).
While the formal sector provides certain resources at scale, its interventions often reduce people on the move to beneficiaries, overlooking the power of grassroots, community-led interventions, and lacking the flexibility to adequately respond to ever-changing circumstances on the ground. Grassroots organisations, though receiving less than 1% of the globally available funding, are filling life-saving and long-term gaps within the refugee support system.
Staying true to its mission to support these underfunded groups is at the core of Choose Love's work.  
With increased grant-making and fundraising comes the need to increase internal capacity. Choose Love's rapid response in Ukraine is a clear example of how successful the investment in its infrastructure has been. Within hours of the Russian invasion, its team was able to launch a crowdfunder and a campaign to engage its public supporters, reach out to high-net-worth individuals for larger donations, begin to identify local partners on the ground through pre-existing networks and distribute funds quickly, and ensure that a steady and accurate information stream was fed back to donors. Working in an active conflict zone is high risk.
The resources and energy Choose Love has poured into its internal systems have given the public and donors confidence in its processes when donating, reflecting its transparent and honest approach to delivering humanitarian assistance. Choose Love remains completely committed to ensuring that every pound it receives is spent in the most impactful way.