Disability inclusion: The mismatch between commitments and investment
Around 15% of the world's population live with disabilities. The vast majority of those people live in the Global South, yet less than 0.5% of international aid focuses on disability inclusion.
At Motivation, we see the impact of this under-investment every day. A lack of access to assistive products, such as glasses, hearing aids and wheelchairs, denies millions of disabled people their right to dignity and individual autonomy, full participation and inclusion in society, and equality of opportunity. We need a more equitable approach that makes ethical and economic sense.
The current landscape
More than 2.5 billion people worldwide require one or more assistive products, and this is expected to grow to over 3.5 billion by 2050 as the global population ages. But most of these people do not have access to the products they require. In Kenya, for example, 100,000 people are entitled to a wheelchair but less than 5% of those have an appropriate one.
Without assistive products, disabled people face limited access to education and work, they experience poorer health and well-being, and higher rates of poverty. The negative consequences ripple through families and communities.
The headlines
Recent data provides evidence that international aid spend for disability inclusion is bleak. Just 0.1% of all international aid since 2012 was allocated to projects with a primary focus on disability. Even when including projects with a secondary objective of 'assisting or empowering people with disabilities', spending totalled between 0.3% and just over 0.5% each year.
From a rights perspective, this is problematic. But it doesn't make development or economic sense either. Investment in disability-related projects offers significant potential for a positive return. Investment in appropriate assistive technology offers:
Human potential: enabling millions of individuals to be active participants in the workforce, leading to economic growth and a broader tax base.
Social and political stability: breaking the link between disability and poverty and fostering social and political stability, leading to improved economic conditions.
Empowerment and inclusion: if disabled people lead more independent and healthy lives, it reduces the necessity for social welfare and healthcare systems.
Market development: stimulating markets for products and services, creating jobs in the technology sector and related industries. This in turn generates economic benefits and contributes to economic development across the world
Global business opportunities: creating opportunities for global businesses that cater to the needs of disabled people. It encourages collaboration and partnerships between countries, driving international trade and economic cooperation.
Together, this can provide a 1:9 return on investment and an estimated average lifetime financial gain of $8,100 per adult and $106,200 for each disabled child.
Join our Disability and Development Working Group
The Bond Disability and Development Working Group convenes members working on disability issues to prevent discrimination and ensure that disabled people are considered and included in all international development and humanitarian policies.
Join the group
What does that investment look like in practice?
Providing a wheelchair effectively and efficiently does not mean handing out cheap, donated, one-size-fits-all wheelchairs. It means designing wheelchairs that meet users' needs and the environment they live in, provide proper fit and postural support, are safe and durable, and are affordable to buy and maintain. It means skilled clinicians and technicians assessing, prescribing and fitting each chair. It means wheelchair users building their skills and confidence to power, maintain and repair the wheelchair.
This is what Motivation has been working on for over thirty years. We know that any other approach can do more harm than good, leading to high rates of secondary disabilities and life-threatening pressure injuries. It can mean piles of unusable wheelchairs stacked in heaps of scrap metal. It can mean a denial of the right to mobility, and of all the other rights and societal benefits that personal mobility helps to unlock.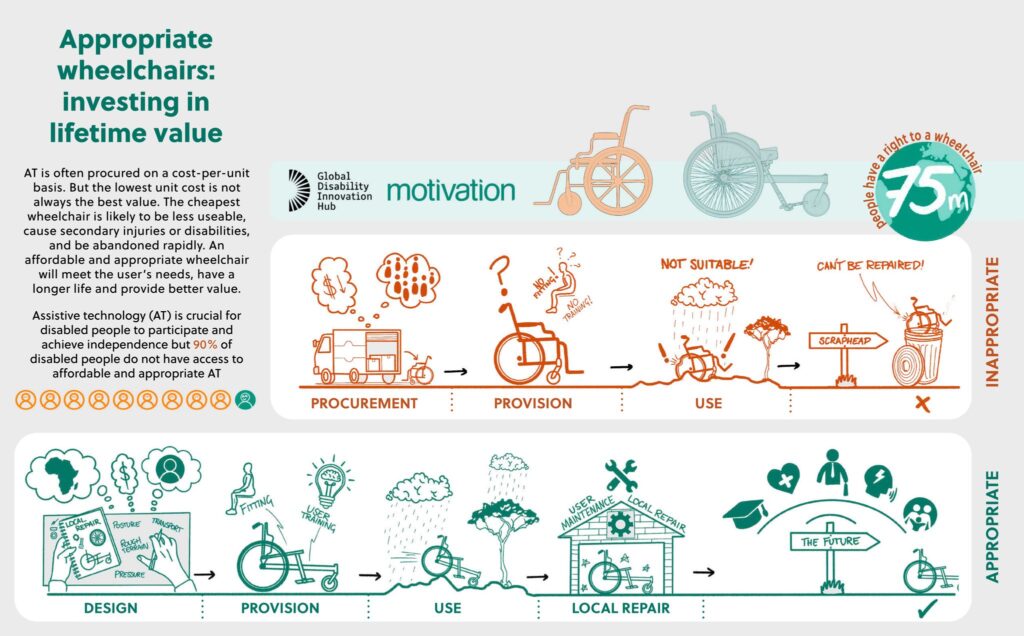 Leaving no one behind
The current state of international aid spending on disability, including assistive products and provision, is far from satisfactory and diminishes progress towards equity and the achievement of key global targets such as the Sustainable Development Goals. To truly uphold the principles of inclusion and equality, a more concerted effort is required.
Our dream is to see the need for our charitable-funded programmes to become redundant, but this will only happen by prioritising disability-inclusive development and addressing the challenges hindering aid allocation.
It is only by doing this we can move toward a more just world for all, leaving no one behind.