How can we get closer to reaching the Global Goals' 2030 deadline? Listen to and invest in women survivors of conflict
The 2030 deadline for the Sustainable Development Goals (SDGs) is fast approaching, but a lack of meaningful progress and political will are pushing implementation out of sight.
For too long we have relied on people in positions of power to lead the way – but with the clock ticking, it's time to think differently about how we listen and who we look to for much-needed solutions.
At Women for Women International, we know that a holistic approach to strengthening and sustaining women's social and economic power supports the implementation of all global goals. Our data also shows how strengthening the enabling environment for women's rights not only impacts food security, economic power, employment, education, and family planning decisions, but can also mitigate the extent to which external threats like conflict, climate crises and Covid-19 slow down progress toward the SDGs.
Investing in women and gender equality is central to achieving all 17 global goals – not just SDG 5 (gender equality). So, to truly fulfil our global development agenda by 2030, we need to put women living in poverty in marginalised and conflict-affected communities first, rather than considering their needs, priorities, and potential for leadership as the 'last mile' of implementation.
Women for Women International: how unofficial data sources fill the gap to leave no one behind
To reach these women first, we must seek and collect data that disaggregates beyond national averages. National and international data collection efforts often have large gaps, missing segments of populations and marginalised groups – including women affected by conflict – limiting our ability to genuinely assess how we are delivering on the global goals for those left furthest behind.
Women for Women International has served over 500,000 marginalised women survivors of war over the last almost 30 years. We routinely administer rigorous baseline and endline surveys to a geographically representative sample of women both at enrolment and graduation of our Stronger Women, Stronger Nations programme to gauge their progress.
Because of this, we've committed to sharing this monitoring and evaluation data within the framework of the SDGs, providing an important snapshot of women's realities and experiences, highlighting the lack of progress for women survivors of war and emphasising the importance of investing in the most marginalised to ensure that no one is left behind.
How have climate change, conflict and Covid-19 impacted women enrolled on our programmes?
The climate crisis hits those who are least responsible for causing it the hardest.
The contexts we work in have been severely impacted by drought and extreme heat. In 2021, Iraq faced temperatures in excess of 50° Celsius and for programme participants across Iraq, the Democratic Republic of the Congo (DRC), Nigeria and Rwanda, women's food security has been gradually declining since 2017. Despite the fact that over time – on enrolling in our programme – we've seen a decline in women's food security, we still consistently see marked improvements by graduation. In 2020, for example, on enrolling in our programme 79% of women programme participants in Iraq reported having sufficient food in their homes. By 2021, this percentage had dropped to 51%. Even with this decline, our holistic approach to programming improved food security as the number of women reporting sufficient food in 2021 grew to 63% by graduation.
Read our report: The UK's global contribution to the Sustainable Development Goals: progress, gaps and recommendations
This report, written with input from over 50 of our members and 9 networks, builds on Bond's 2019 SDG report and looks at the impact Covid-19, cuts to UK aid and other emerging threats are having on the UK's ability to deliver the SDGs and leave no one behind.
Read more
And we know that climate change, like all crises, disproportionately impacts women. In the DRC, the intersecting consequences of climate change, Covid-19 and rising conflict continue to threaten the enabling environment for their rights. Throughout 2021 in the DRC, the lingering effects of Covid-19 multiplied by the rising activity of local armed groups negatively impacted women's earnings and their savings. For example, in 2020 – after graduating from our Stronger Women, Stronger Nations programme – 99% of women reported saving their earnings in comparison to 72% in 2021. Similarly, for women reporting earnings above $1.90 a day, this percentage dropped from 61% at graduation in 2020 to 48% in 2021.
Investing in and analysing alternative and unofficial data sources can provide a more nuanced understanding of the realities of marginalised groups, how various crises are compounding and intersecting, and why we need to take a more holistic approach to achieving the SDGs if we are to deliver for those at risk of being left behind – especially women and girls affected by conflict.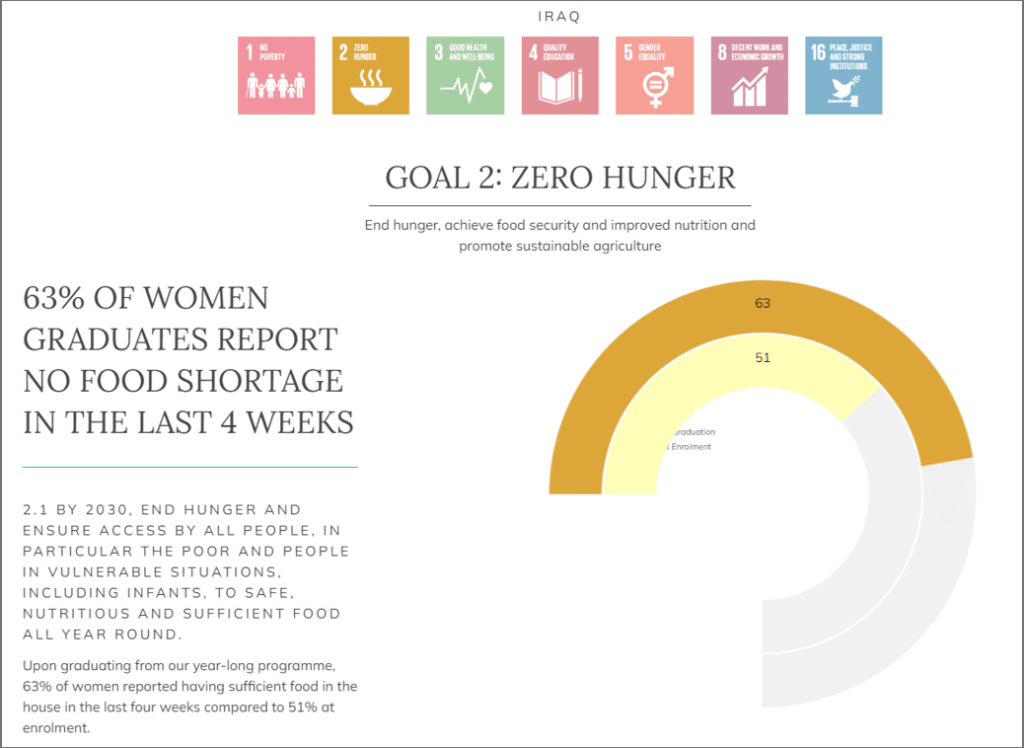 So, what's the solution? How can a holistic approach to investing in women's power mitigate these effects?
The good news is that women remain resilient amidst crises – for many of our indicators across the Global Goals, our data shows that holistic programming that centres the women's rights, needs and experiences can mitigate these risks. We know that investing in the power of women works and that it enables them to identify and drive forward solutions to the challenges they face:
Investing in holistic programming can mitigate food and economic insecurity. Throughout 2021 in the DRC, South Sudan and Afghanistan, we saw parallel increases in reductions in food shortages and increases in women's savings. These figures for women reporting gradual increases in earnings – from 0% to 75% for Afghanistan, from 68% to 82% for the DRC and from 23% to 80% for South Sudan – correlate with women reporting gradual increases in improved food security from enrolment to graduation in the DRC (from 15% to 57%), South Sudan (from 5% to 70%) and Afghanistan (from 82% to 96%).
Investing in the power of women can mitigate the external barriers of conflict and insecurity that restrict or roll back women's access to social and economic rights. In Nigeria, conflict and insecurity continued to rise across the country in Jos, Bauchi, Kaduna and Plateau States – but our programme delivery remains unaffected. The number of women reporting increases in their earnings, employment and involvement in decisions on family planning have all been above 90% at graduation for the last two years, despite the challenging environment.
Women continue to discuss community issues with each other, they listen to and make women visible within their own spheres of influence. Even at the intersection of Covid-19, climate change, conflict and government inaction women enrolled on our programmes still find space to discuss community issues with each other. By building and sustaining community women can offer each other solutions and support each other on the issues that they face. At graduation 100% of women in the DRC, 94% in South Sudan, 63% in Afghanistan and 61% in Nigeria reported discussing community issues with each other.
Women's lives do not fit into a superficial compartmentalisation of 'issues' or 'goals'. It's time to take a more holistic approach to women's rights and SDGs. By listening to women and investing in the solutions they seek, there might be hope for the 2030 Agenda after all.