Can big NGOs survive and thrive again?
Big international development charities like Oxfam, Save the Children and CARE do not have a divine right to exist.
Like all organisations, they have to remain relevant to their clients and supporters. Have they got too big and complex for their boots? Quite possibly. Are they still relevant? Only if their clients believe so.
Having learnt so much about the difficulties in successfully leading change in a large charity, I've chewed over what the future looks like for big international development charities [PDF] with others from inside and outside the sector.
We live in times of unprecedented speed of change: from the extraordinary opportunities offered by digital transformation, shifting societal norms and the face of poverty itself, to the challenges of political polarisation and a shrinking civil society space. Public trust in charities is also declining. Partly as a result of INGOs' own complacency in telling the story of impact and partly our questioned practices in fundraising and safeguarding.
I fear that the gap between how fast the world is changing and the lumbering pace of change in large NGOs is growing wider by the day. It's a tough environment for leading a large INGO but as deputy chief executive of Oxfam GB until earlier this year, I think we were ill-prepared and slow to respond to the threats and opportunities we faced. We didn't realise how much we needed to change to respond to the fast-evolving context and what was expected of us.
If NGOs want to remain relevant, they need to learn from others around them. They need to be bold and take risks, while staying true to their values and above all listen to their clients.
Defeated by our own complexity?
The sizes and structures of large NGOs do not enable agility. They are "defeated by their own complexity" (as a colleague put it), too self-referencing and internally focused at a time when the world around them is changing so fast, and when political sands have shifted.
Large NGOs expend so much energy exploiting current relationships, and current grant and contract business models involving institutional donors. There is little energy left to explore how we support development differently, whether by providing platforms that directly empower clients and supporters or accelerating innovation.
Are large NGOs worth saving? I think so. Oxfam is a force for good that many of us in the sector still aspire to work for, and those outside the sector seek to partner with. Big NGOs have built authority that they use to hold governments and big business to account like no other. They can boldly co-create a more positive vision of the world we want to live in. But they need to be brave and speed up their pace of change.
We can't be all things to all people
Learning from other large organisations, there seem to be some tough choices for large INGOs to make. All the staff from big NGOs I interviewed for my research mentioned the importance of a clear focus, but also acknowledged the challenge of deciding what to stop doing.
Are international structures, multi mandates (humanitarian, development, campaigning, working across the full value chain from programme design to delivery) and being agile in our digital, challenging world compatible? I've sketched this trilemma below.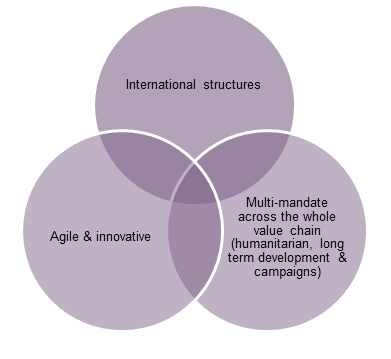 Big INGOs seem to think it is possible to be all three. I challenge that.
Oxfam is one of the most successful multi-mandate INGOs, but it struggles within its international structures to make decisions in an agile way. Delivering such a broad range of functions within a network of 20+ Oxfam affiliates operating under different national jurisdictions and systems has resulted in a lumbering, slow bureaucracy. WaterAid is single issue focused, becoming increasingly international and is more agile in its decision making, ability to be opportunistic and innovate. There are plenty of national and local NGOs that are multi-mandate and agile but by definition are not international in their reach or structure.
Subscribe to our newsletter
Our weekly email newsletter, Network News, is an indispensable weekly digest of the latest updates on funding, jobs, resources, news and learning opportunities in the international development sector.
Get Network News
There may be a sweet spot in the middle of this trilemma, but I can't see any large NGOs in there. But this trilemma can help us identify some important questions to help us mine data differently and make some tough choices. Do the gains from being part of an international structure or global family outweigh the challenges? What is the cost of the global family and is it justifiable to supporters? Are you really the best at women's rights programming/humanitarian relief? How do you know? What benchmarks can you use or develop with competitors to find out? What evidence and data on your global reach do you have that you could better use to scale what works?
At a recent strategy "stand back", BRAC International used this trilemma tool in their discussions to agree what mattered most to them – agility. Their questions then became "so how much of a multi-mandate and how international can we be without it affecting our all-important ability to be agile?" It felt a more grounded helpful discussion.
I'd love to hear your thoughts, so please get in touch.
In my next blog, I look at the strategic pathways forward for large INGOs from my recent research. You can read the full paper here [PDF].