Collaboration Award
The Collaboration Award recognises the importance of effective relationships and collaborations within and across disciplines to tackle difficult issues.
We want to celebrate collaborations which highlight what is working and what is possible when diverse organisations and sectors come together to achieve a shared goal.
Shortlist
Our shortlist for the 2020 awards have been finalised. See who has been nominated now.
Are you collaborating?
We want to hear from organisations that have successfully worked together on a project with a mix of organisations and individuals – for instance, local entrepreneurs, governments, funders, the private sector, consultants, academics or researchers. A successful collaboration could mean you've overcome particular obstacles, used technology creatively, or found new ways to collaborate across geographical boundaries. You may have had to compromise or take calculated risks with new collaborations that hadn't been tried before.
Judging criteria
Your images and accompanying entry form will be judged on the following criteria:
The narrative – how compellingly you tell the project's story
The currency – how you interpret and respond to current global challenges
The reach – who and how many people were reached and how you measured this
The impact – what is the likelihood of impact and sustainability
The collaboration – how the collaboration led to the successes or failures of this project
This year's winner
This year's winner was announced online on 23 March 2020.
Winner: Global Initiative to End All Corporal Punishment of Children
A two-year programme of national multi-sector collaboration that supported partners in government, parliaments and national and international civil society. Find out more.
We received some great submissions from around the world and our judges chose the two projects below as finalists.
Shortlist: BBC Media Action
The project works to understand perceptions and concerns of Rohingya people and host communities, dispelling rumours and providing trusted information, and gives people a means of communicating with and giving feedback more effectively to aid agencies. Find out more.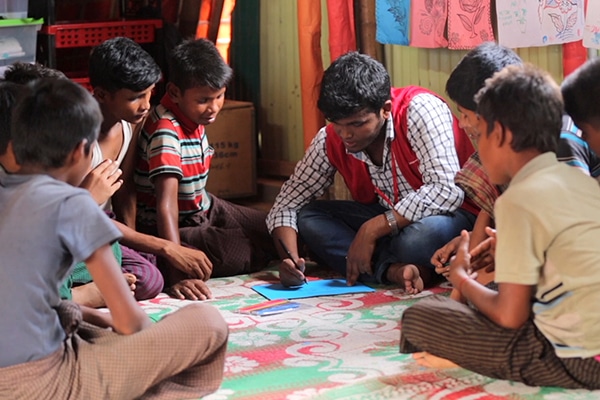 Shortlist: Chance for Childhood
The Tahiry Honko project, in southwest Madagascar, helps to tackle climate breakdown and build community resilience by restoring and protecting mangrove forests. Find out more.