The forgotten generation: as the war continues and civilians flee, millions of older people are still trapped in Ukraine with limited help
We are all aware that the conflict in Ukraine is having a devastating effect on civilians, with homes and communities destroyed and a huge number of lives lost.
Less visible however, has been the way in which older people, who make up a quarter of the country's population, are caught up in the war, and how there is a danger that some of their distinctive needs may be being overlooked in the humanitarian response.
Older people have been disproportionately affected, with many unable, or unwilling, to flee the violence due to health or mobility problems, or simply being reluctant to leave familiar surroundings. Those that have been able to reach neighbouring countries are experiencing shock and trauma from the suffering they have experienced. Large numbers of older people are now cut off from loved ones, without daily necessities and access to vital medicine.
A new survey from HelpAge Internationalprovides important evidence of, and insight into the challenges and specific needs of people over 60 in Ukraine who have been displaced from their homes by the conflict.
The survey reveals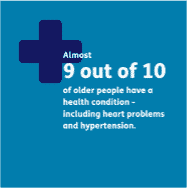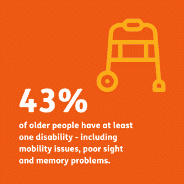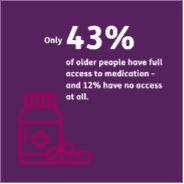 Findings show that, as well as specific help for older people with mobility challenges and the vital importance of psycho-social support, the most urgent need is for cash support to give older people the freedom to access what they need most, followed by medicine, healthcare and hygiene items.
For those left behind or choosing to stay in their homes in Ukraine, the situation is particularly dangerous, as many older people who remain within their homes are trapped within areas of intense fighting. They urgently need access to daily essentials, such as food and water, as well as medicines, emotional care and practical support, including accessing their pensions, which themselves fall short of covering basic needs.
Subscribe to our newsletter
Our weekly email newsletter, Network News, is an indispensable weekly digest of the latest updates on funding, jobs, resources, news and learning opportunities in the international development sector.
Get Network News
Age International has been supporting the work of HelpAge International as well as local partner organisations in Ukraine since 2014 and we have been able to escalate our response thanks to generous donations to the DEC Ukraine Humanitarian Appeal. Our network of volunteers continues, in spite of immense pressures, to provide emotional support to people isolated in their homes in eastern Ukraine and are helping with distributing food and hygiene items.
We are also supporting new programmes to support older people who have been uprooted from their homes by the conflict or are living in care homes.
Older people are among over 8 million people who have been displaced from their homes and the 6.6 million refugees fleeing the conflict, and they require specific support for the long journeys they are making, navigating new areas and accessing services they need.
It is widely recognised that older people caught up in disasters and emergencies of all kinds have specific needs, and that they are often overlooked. There has been conflict in Ukraine since 2014, and even before the recent escalation in February, a third of all people in the country who have been adversely affected are over 60 years of age. Many older Ukrainians are helping others around them and some are of course carers, but they can't do it all in the own and appreciable numbers of older people are struggling alone. We need to ramp up our efforts to reach and help them.
Among the older people who have chosen to remain at home , despite living in fear and being separated from their loved ones, is Neonila. Neonila, 83, decided not to leave her home when conflict broke out in Ukraine – she told us about her experiences.
"I am 83. I have lived in this village since 1957. I became a widow two years ago. Now I live with my daughter. My health is very poor. I only move around the house, with the help of a walking frame, but I'm trying to take care of myself. I stayed because my health does not allow me to go, and I don't want to abandon the house. Over the past two months, my life has changed a lot because of the war and the shelling. I live in fear for myself and for my daughter. I am separated from my grandchildren. They left for the Czech Republic and I'm very worried for them. I keep in touch with them. There is still an opportunity to talk on the phone. Fear is always here until peace comes. But there is always hope for the future and faith that peace will come, that everything will be fine." – Neonila
No Time for Business as Usual
HelpAge'snewbriefing, "No Time for Business as Usual", outlines how a humanitarian response without the needs of older people being front-and-centre is unacceptable. The report praises the working groups that have been set up to support older people and those with disabilities in Ukraine, but describes how the lack of robust data on older people, disabilities and gender, gaps in leadership and a lack of commitment to prioritise older people means that efforts to support them are hampered.
We are calling for humanitarian organisations and UN bodies to prioritise older people in their response and for hosting countries to ensure older people's rights are upheld. Donor organisations and governments must also prioritise the needs of older people and make funding available to ensure an inclusive response to the crisis.
Older people in Ukraine have endured so much and those in the east of the country have been impacted by conflict for the last eight years. It is essential that the global community pays more focused attention to the need of older people in this horrific situation .
Age International is a member agency of the Disasters Emergency Committee and, and as the UK member of the global HelpAge network, is reaching older people in partnership with HelpAge International and local partner organisations.