The triple emergency: environmental degradation, climate change and poverty
World Environment Day is an important reminder that we are all dependant on nature for the food we eat, the air we breathe, the water we drink, and the climate that makes our planet habitable.
Yet we are facing global climate and ecological emergencies, which exacerbate deeply-rooted structural social injustices, poverty and inequality.
Even before the Covid-19 crisis, we faced an interconnected triple emergency of poverty, climate change and environmental degradation.
2020 is the year for collective action
2020 was set to be a landmark year on global action to tackle these threats, with global summits lined up to drive action on the Sustainable Development Goals (SDGs), biodiversity (CBD COP15), and climate change (UNFCCC COP26). But we're facing another global emergency: the Covid-19 pandemic. This crisis requires collective global cooperation and personal action. We stand in solidarity with governments, communities, and health workers around the world at this most difficult of times.
But the triple emergency has not abated. Its consequences continue to disproportionately affect the most poor and vulnerable countries and communities, compounding their hardship and widening inequality during this pandemic and for decades to come.
Governments, businesses and civil society still need to take urgent and ambitious action to tackle the triple emergency. Global summits, and any plans and investments to recover from the economic consequences of Covid-19, must enable a just transition to the sustainable, inclusive and resilient future envisioned in the Paris Agreement and the SDGs.
Subscribe to our newsletter
Our weekly email newsletter, Network News, is an indispensable weekly digest of the latest updates on funding, jobs, resources, news and learning opportunities in the international development sector.
Get Network News
We must ensure that we emerge from this pandemic without being locked into a system that causes even more harm. We must break from decades of the same damaging so-called development to realise a just and sustainable world.
2020 marks the start of a decade in which we must collectively limit climate change, restore nature, and create more fair and equal societies. Otherwise, we will emerge from this global pandemic locked into a climate emergency, a nature emergency, and a poverty emergency. We will undermine our and future generations' ability to produce food, to have enough water, to live healthily, and to thrive.
Achieving human well-being and eradicating poverty for all of the Earth's people is still possible, but only if there is a fundamental—and urgent—change in the relationship between people and nature, and a significant reduction in social and gender inequalities between and inside countries.
The interaction between climate change, people, and nature shows the need to understand and address this unprecedented triple emergency in an integrated way.
The Bond Development and Environment Group's new report highlights the interconnected emergency our world faces and provides an action plan for coherent policy outcomes to address the triple emergency in 2020-2021.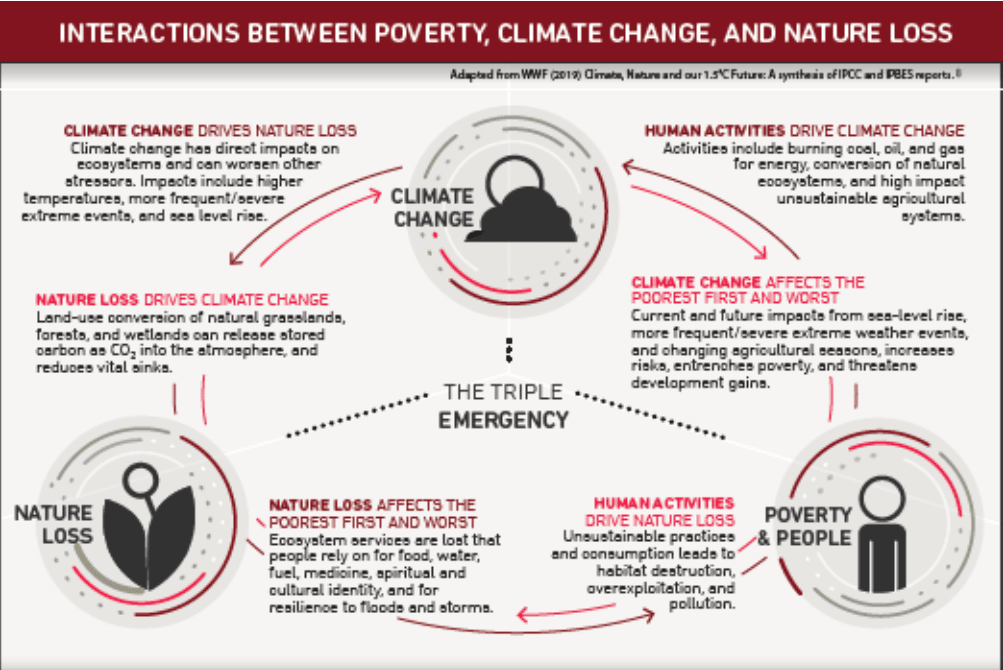 Integrated solutions for an interconnected problem
To tackle the triple emergency collectively, we must:
Achieve social justice, gender equality, and human wellbeing for all in the context of permanently altered natural planetary systems, including the climate system and landscape scale ecosystems.
Limit warming of the climate system to 1.5°C to prevent extreme human suffering and catastrophic loss of nature.
Halt and reverse biodiversity loss and nature's decline – a prerequisite for limiting global temperature rise to 1.5°C, preventing mass extinctions, and achieving social justice and human wellbeing for all.
These fundamental principles must inform actions under each of the international conventions. They must also be a blueprint for integrated action across everything we do and invest in – including recovery plans and support to developing countries.

A call to action
Governments, businesses, and civil society must work together in 2020 and 2021 to recognise and support the interdependency of people, nature, and climate. This requires the following commitments:
Increase ambition: In each of the three major UN conventions, current actions are not matching what the science demands. We know what is needed, and now it must be delivered. Ambition must be ratcheted up and implementation started in earnest. If that happens across all three conventions, they will add up to more than the sum of their parts and enable real transformation.
Increase coherence: It is no longer acceptable for governments and businesses to do "good" or make empty commitments in the name of these conventions, while continuing with business as usual that is driving the triple emergency. All areas of domestic and international policy must be consistent with all the conventions, and accompanied by measures that drive real world change.
Achieve balance: Social and environmental factors must urgently become equals to economics in all policy making, decision making, and investments. The prioritisation of economic interests over social and environmental considerations has led to climate change and environmental decline at a global scale. The triple emergency is a result of unsustainable development. The only way forward is sustainable development that balances different needs against an awareness of the environmental, social, and economic limitations we face as a society.
To find out more, read the Bond Development and Environment Group's report on Addressing the triple emergency: Poverty, climate change, and environmental degradation: Delivering coherent policy outcomes in 2020-2021.