Social enterprise approach helps NGO innovate and maximise impact
In May 2016, Bond and innovation consultancy Inventium carried out the first ever Innovation Audit of Bond's members, which helped them assess how their organisations enable innovation.
Sixty-two organisations were benchmarked against each other and each received individual recommendations for improving their performance.
Disability charity, Motivation earned one of the highest scores in the audit for its social enterprise approach to providing more people in developing countries with wheelchairs. In the first in a series of blogs and interviews, Liz Lowther, Bond's head of innovation and learning, talks to Richard Frost, CEO of Motivation.
Liz Lowther (LL): What have you learnt from your efforts to be a more innovative organisation?
Richard Frost (RF): It's important to understand the concept of social enterprise. For us, the driver is the social impact, not the profit. You risk losing the heart of your organisation if you start to put profit before impact and become more commercial in order to grow the business. We have faced pressure to make more money but have deliberately stayed small and focused on collaboration and influencing as our way of scaling our impact. There are cultural challenges in developing a business inside a charity and we have paid a lot of attention to ensure everyone in the organisation understands what we are doing and why.
LL: Why do you think you scored highly on Bond's Innovation Audit?
RF: Starting out in product design – just three guys designing and making wheelchairs – we have grown an organisation which has innovation embedded across its products and services. Our strategy is all about innovation leading to mainstream change – we don't want to maintain the status quo. We have worked to develop a clear understanding of what innovation is and why we take that approach, and then to communicate that in simple terms.
Subscribe to our newsletter
Our weekly email newsletter, Network News, is an indispensable weekly digest of the latest updates on funding, jobs, resources, news and learning opportunities in the international development sector.
Get Network News
We are constantly looking for ways to improve what we do, and to reach the millions of people in need of a decent wheelchair. Our social enterprise business model is based on innovation – we call it the "bow wave of influence" (see diagram). Innovation is like the bow of a ship pushing against resistance, creating something different and breaking new ground. The initial area of disturbance relates to impact and proves the value of innovation – we aim to create the best quality solutions through our projects. But overall Motivation is looking to maximise its social impact by reaching as many people as we can. So once we have established the impact we work hard to build collaborations and to influence others to get involved and take on this work. This way our innovations can reach more people rather than us trying to do it all ourselves.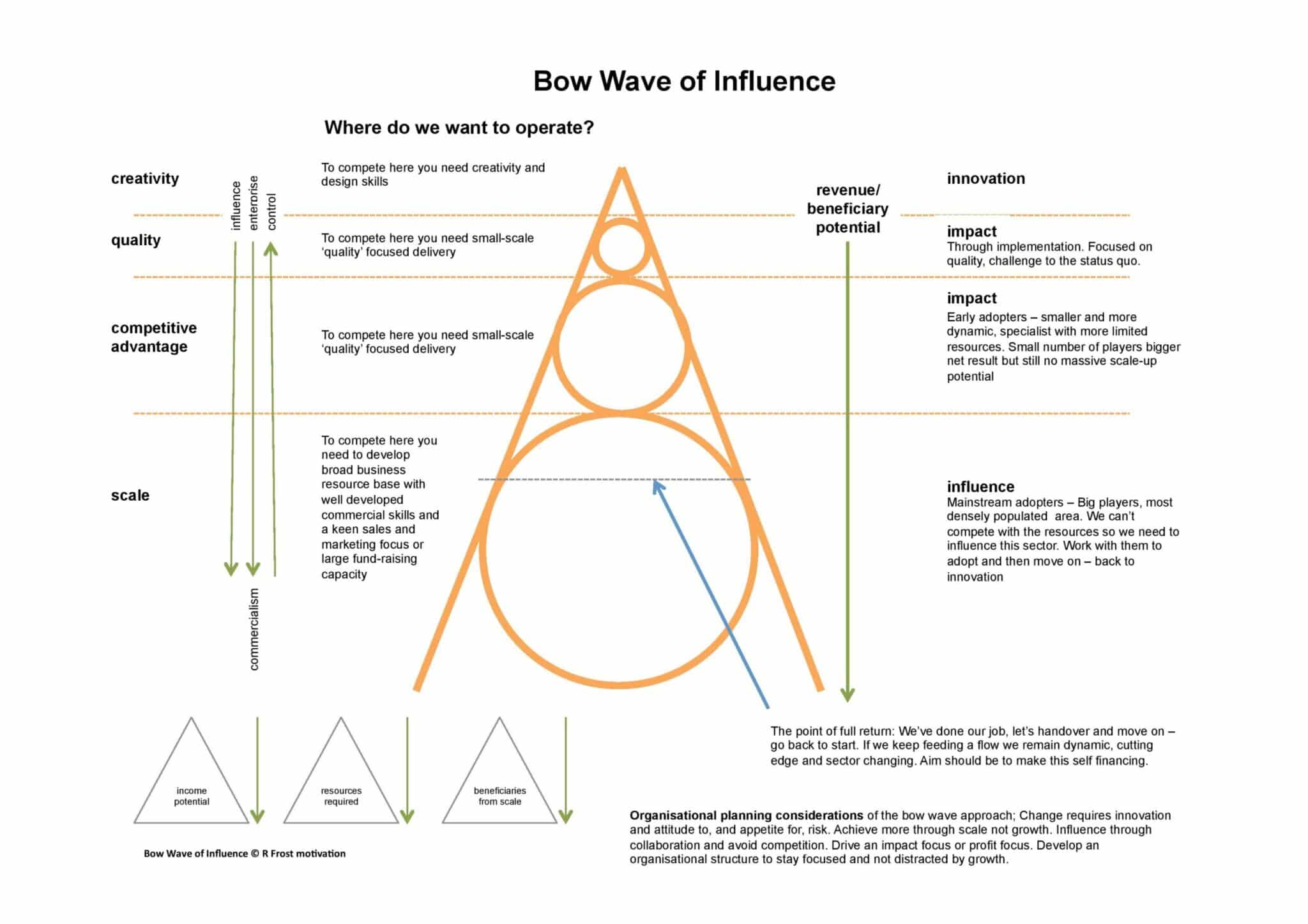 We're just about to enter into an exciting new collaboration with the government of India and their official wheelchair manufacturer, which will see us provide them with expertise and a licence to produce Motivation-designed wheelchairs for themselves; hopefully seeing 65,000 disabled people across India benefiting from better wheelchair provision and training over the next six years. This is how we can reach social impact at scale. We could never do this on our own. And the royalties paid will go back into Motivation, allowing us to keep innovating and developing new products and services.
LL: What was the main learning for you from the Innovation Audit, and what are you doing to build on the findings and continue to innovate?
RF: We got to test exactly how much innovation is core to what Motivation does. We got responses from across the organisation and were delighted to see there was a greater appreciation of innovation than we expected, and that staff are really behind the strategy. We've received an innovation grant from Google.org and are about to start developing new products and services using 3D printing technology to provide individual solutions for the most disabled people living in the hardest conditions – this is going to be really revolutionary.
LL: What advice would you give other organisations seeking to become more innovative?
RF: The keys are clarity and communication. Ask yourself why you want to be innovative. What are you trying to achieve? Innovation can be evolutionary – about evolving and doing things better. Or it can be revolutionary – about finding completely different ways of doing things, like our new 3D printing initiative. Both approaches are valid and needed. At Motivation, crazy ideas have got us to where we are and we've created an environment that encourages them, while also enabling other changes to evolve.
Hear more from Richard Frost and learn more about creating a culture of innovation in your organisation at the Creating an innovation culture session at the Bond Conference on 20 March.